Clean room ISO 5 conditions for any workstation in production, service, research and laboratory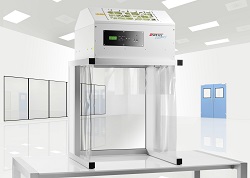 The Spetec clean room work place CleanBoy® brings cleanliness to the exact place where you need it. Cleanliness in technical terms means classified cleanroom conditions. The CleanBoy® clean room work place is available as a floor-standing or table-top device. It is simple to set up and is operational immediately without any further installation.
The CleanBoy consists of a laminar flow module series SuSi® or series Basic and a supporting frame made from anodized aluminium. Work can be performed on the table top under category 5 clean room conditions. The same applies to the CleanBoy® Mini (table-top device) and the CleanBoy® Maxi (floor-standing device).
That is why the Spetec CleanBoy® is equipped with a type H 14 filter. This has a filtration efficiency of 99.995 %. This means that the filter captures at least 99.995 % of all particles of a size of 0.12 μm (as per MPPS). The filtration efficiency is approx. 99.9995 % for particles with a size of 0.3 μm. Thanks to the use of the H 14 filter, the CleanBoy® has an isolation factor of 104. This means that the air quality in the clean room station is at least 10,000 times better
than that of the ambient air.
Application examples:
In analytics: storage samples in clean room conditions
In mechanical engineering, electronics, optoelectronics, medical or biotechnology industries: Assembling or storage of parts or components produced with exceptional reliability
In pharmacy, food industry or laboratories: Storage, manufacturing and packaging of components
Table-top device with laminar flow module "SuSi"






---
Floor-standing device with laminar flow module "SuSi"


---
Floor-standing and table-top device with laminar flow module "Basic"
---
All housing components are made from stainless steel.
Find more information in our Download Menu!