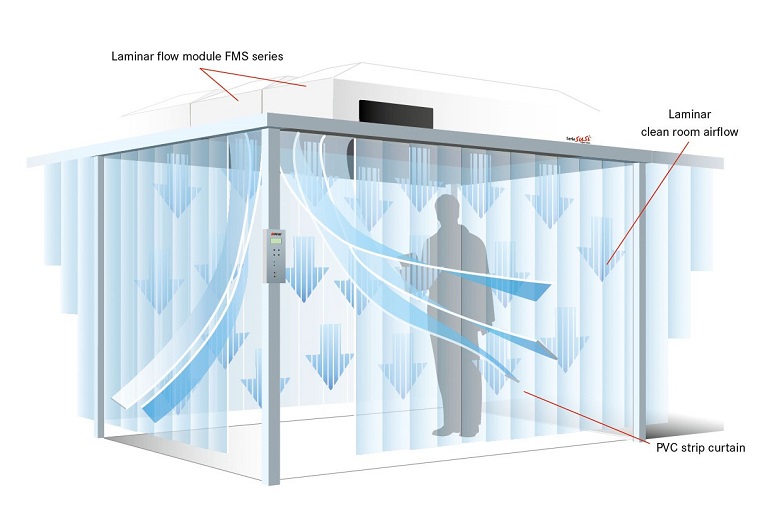 The strip curtain in the "soft wall" version makes it possbile to implement a simple, flexible clean room. Recesses and walls which follow the contours of machines can be achieved without difficulty.

Equipment options:
Support frame made of aluminium or stainless steel (dimensions to order)
Airlock for materials and personnel
Completely odor-free or antistatic strip curtain
Strip width from 200 to 1500 mm
Roller-mounted design
---
High performance filter
The Spetec laminar flow box FMS uses a type H 14 filter. It features a retention rate of 99.995%. This means that at a particle size of 0.12 μm (according to MPPS), the filter removes at least 99.995% of all particles. At a particle size of 0.3 μm, the retention rate is approx. 99.9995%.
By using the H 14 filter, the Spetec laminar flow module has an isolation factor of 10. This means that the air quality inside the laminar flow is improved by a factor of at least 10 000 relative to the ambient air.
Application example:
With the use of a SPETEC® clean room cell the particle concentration is reduced from approximately 15 Mio/m3 (size 0.12 μm, MPPS) to about 1,500 particles within the cell. This corresponds with a room class of DIN ISO 5.
---
Control panel
The flow velocity can be controlled in 8 steps. The controls include the "night reduction" (eco) mode to save energy costs, and the "MAX" function to clean the workstation, parts, or equipment if applicable.
8 level adjustment of the flow velocity with night reduction and flushing function
LCD display with selected flow velocity in m/second
Service and interval indicator, dependent on the usage period
LED fault indicator
Optional:
Connection options for building control systems (remote monitoring)
Interior light switch on the control panel
Automatic flow adjustment with filter replacement indicator
Through the use of latest generation EC fans with a very high efficiency, the power draw is reduced to a minimum.
---
Example for SPETEC clean room: