Increasing requirements in the pharmaceuticals industry and in food engineering demand a clean environment during manufacturing, processing and storage.
Clean room cells are used in pharmacies, hospitals, in the foodstuffs and cosmetics industries and wherever a particlefree working environment is needed.
The stainless steel clean room cell is based on a similar concept to the aluminum profile clean room cell, but the supporting frame and any side walls are entirely manufactured from stainless steel. A flush-fitting ceiling and side walls ensure easy cleaning and disinfection of the cell.
The modular construction of the cell makes it a simple matter to extend the area of the clean room. So the cell can simply grow to meet future requirements.
Depending on the precise requirements, Spetec clean room cells are custom-built and adapted to the customer's exact needs. The cells can be built to meet the requirements of ISO classes 5 through 9 (DIN ISO 14644-1) and classes A through D of the GMP standard.
Generally, clean room conditions as laid down in the GMP (Good Manufacturing Practice) standard are required for such areas. The stainless steel clean room cell covers precisely these requirements.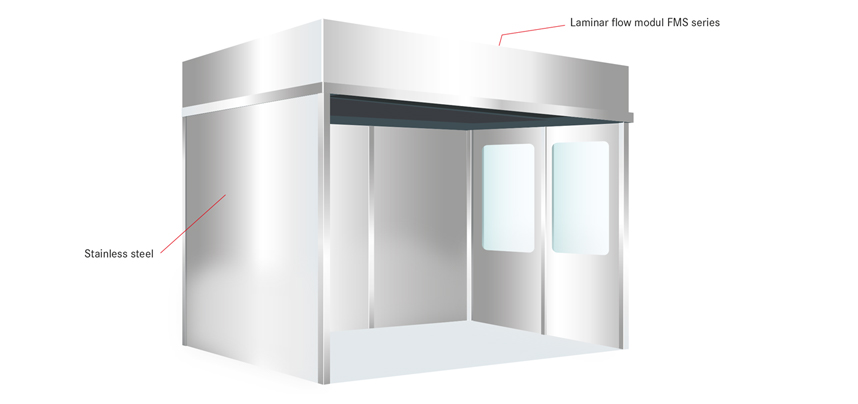 Optional features:
Flush-surface internal and/or external wall system (modular)
Access via double hinged door, sliding door or PVC stripcurtain with stainless steel mounting
Windows glazed with acrylic or safety glass
Integrated lighting (yellow or white light)
Operating hours meter
Filter change indicator and error LED
Programmable controller interface
IP 65 construction
Airlock for materials and personnel