The Spetec clean room curtains are made from strips of various thicknesses and a range of materials.
They are always produced according to customer requirements. This allows us to offer you a customized product tailored precisely to your requirements.
The strip curtain is fitted to the respective given conditions using special hardware.
Examples:
Clean rooms
Locks
Room separation
Thermal barriers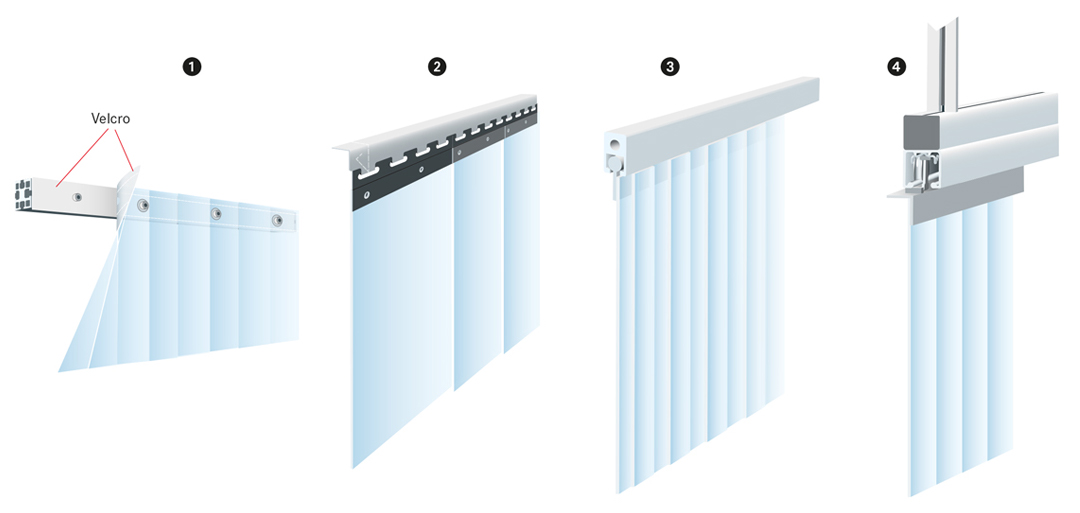 Hanger systems


1. Velcro system
The individual strips are sewn in on the top side and attached to the aluminium profile via Velcro and screws.
Characteristics:
• Easy to dismantle
• Cost effective
2. Hook system (Stainless steel)
Each strip is attached to a separate retaining plate. As a result each strip can be replaced individually.
Characteristics:
• Stainless steel
• Overlap can be manually adjusted
• strips individually replacable


3. Bead system
This system allows a simple and quick installation and can be variably produced for all sizes. By integrating the curtain into the tent-rail a tight connection, is created which offers a high degree of process security.
Characteristics:
• Particle dense assembly
• quick installation
• individually produced


4. Sliding system
In the sliding system the curtain is guided using a holding system in the running rail. Sliding is possible in both directors. The opening times can be limited via a stopper or be set only on one side.