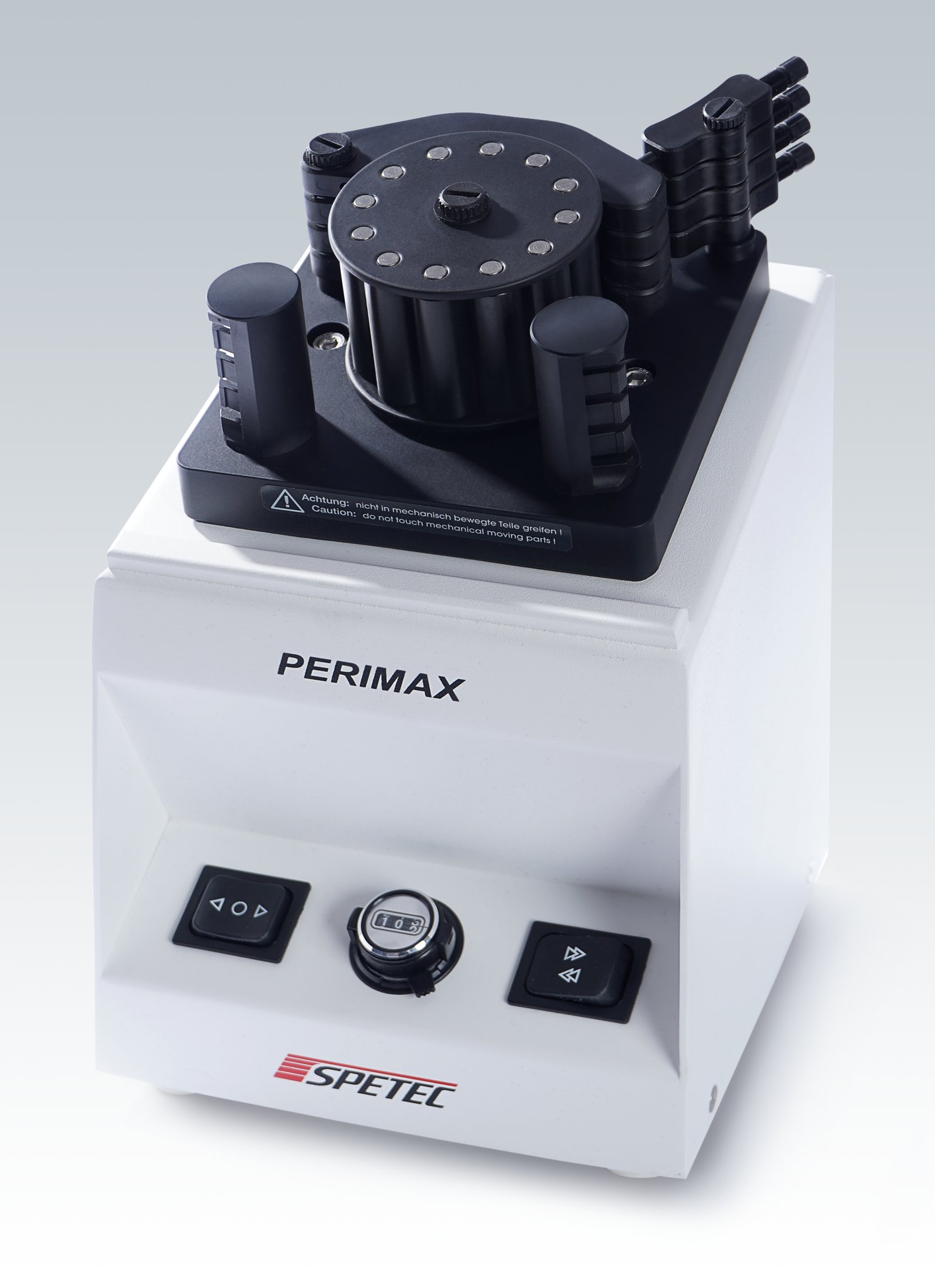 The Perimax peristaltic pump is used in all branches of analytical and preparative chemistry, and in production systems:
Analytical instrumentation
Biotechnology, bioanalytical chemistry
Liquid chromatography
Column chromatography
ICP and AA instrumentation
Liquid transfer, dosing and mixing
Laboratories and production
---
The Perimax 12 peristaltic pump is a multipurpose, easy-to-use pump for the transportation of inorganic and organic fluids.
It consists of a roller head with 12 rollers and ensures low-pulsation fluid delivery. It is therefore particularly well suited for applications in the field of analytical technology where a continuous fluid flow is required.
The pump is easy to use.
The tubing is passed around the roller head, clamped in the tube holder and pressed against the roller head using the pressure brackets. All the parts are powder-coated and are therefore ideally suited for acidic fluids.
---
Control
The rear-mounted connector can be used to control the speed and direction of rotation by means of an analog 0-5 V signal.
---
Operating the unit
Operation of the Perimax 12 peristaltic pump could not be easier. The tube is guided around the pump head and its two ends are fixed to a special mechanism. The compression level is set using an adjusting screw at the adjusting lever. There are operating buttons to switch the pump ON or OFF or to run to the RIGHT or LEFT. The speed of rotation of the pump head can be continuously adjusted using a 10-turn potentiometer. The digital display (0 – 999) ensures a reproducible speed of rotation and fluid delivery rate. A high-speed button permits brief periods of operation at top speed, for example in order to flush the tubing more quickly when changing to a different liquid medium.
---
Tubing:
We are offering the associated tubing various materials.