Peristaltic pump with EasyClick connector
Many of the peristaltic pumps currently in use are based on one similar principle. The tubing that is to be inserted is clamped into place using the attached stopper/bridge and is then tensioned using a special pressure clip and adjusting lever. The knurled screw in the adjusting lever can be used to vary the setting of the pressure clip.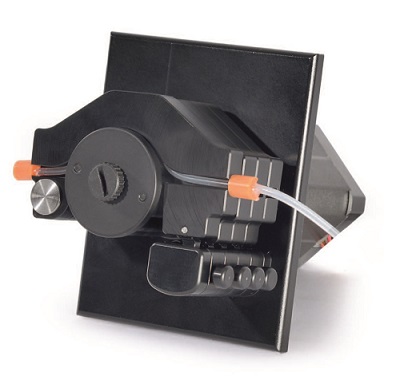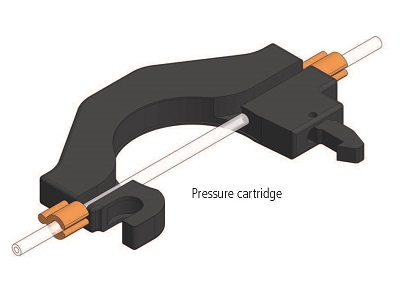 Although this method gives users great flexibility, it also means that the compression level has to be adjusted depending on the wear at the tubing. As in many other areas of technology, the trend in the use of peristaltic pumps is to ensure the greatest possible simplicity of operation coupled with the greatest possible product reliability.
These two properties are ideally combined in our EasyClick connector:
Compared to the clip used in its predecessor, the new version is equipped with a pressure cartridge in which the user simply places the tubing. The cartridge can then simply be fixed in position by means of a special click-in spring mechanism. This mechanism also ensures that the tubing is automatically adjusted during pump operation, with the result that there is no longer any need for manual readjustment by the user.

Characteristics
• Easy to install
• Customer-specific design
• No pressure readjustment during the operation